Regular price
$99.98 USD
Sale price
$49.97 USD
Unit price
per
Sale
Sold out
Wish you could lift and tone your face without expensive surgeries or chemical treatments?
FUNCTIONS:
❤Reduce wrinkles, bags and dark circles
❤Moisturize the skin, making it smoother
❤Reduce acne and blackheads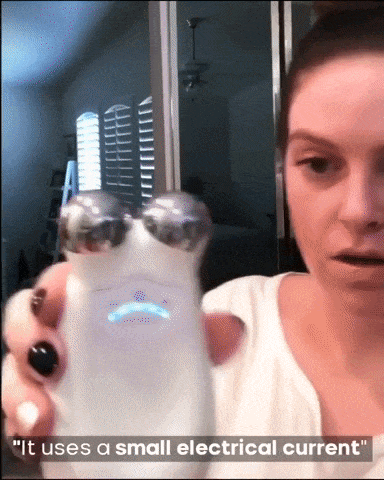 FEATURES:
1. ATP technology: It has ATP technology, which can help improve the appearance of the skin.
2. EMS ultra-micro current: Beauty instrument EMS ultra-micro current is designed to benefit the skin condition and help improve facial fine lines. Micro-current technology is one of the hottest innovations in the anti-aging industry and is widely used in top spas and medical offices for facial toning, tightening, and firming of aging skin. A low-level current that typically operates in the range of 0-400 microamps, which is a safe and effective technology for clients who wish to attain and maintain a healthier, younger looking appearance. The results can be so dramatic that micro-current treatments are considered as "non-surgical face lifts." )
3. Convenience: small and portable, easy to use, starting from 5 minutes at a time, not taking up a lot of time and effort.
4. Three-stage adjustment: It can be adjusted in three-stages, which can be adjusted freely according to the sensitivity of the skin, which is suitable for more skins.
EFFECTS AND USE
This facial massager has micro-current therapy functions. You can adjust the intensity of the micro-current.
There are 3 modes of micro-current intensity. While working, this facial massager releases a gentle micro-current to stimulate the production of ATP which energizes the facial muscles. It really improves the contour and tone of the face and reduces fine lines and wrinkles. It effectively reduces dark circles, puffiness and wrinkles when massaging the chin, cheeks, forehead, lips, etc.
 Low Level
 B. Normal temperature, low vibration direction.
 C. Vibration frequency: 6200 times / minute
 D. Tightens loose skin, reduces the pores, and improves oily and sensitive skin.
 Medium Level
 B. Heating the temperature is 42℃, middle vibration sensation
 C. Vibration frequency: 9500 times / minute
 D. Improve the oxygen of the cells, according to the alternative function, it promotes the circulation of the body's stomach, lymphoid dredge and edema, and also has the effect of calming the skin with balance and stability.
 High Level
 B. Heating the temperature is 42℃, high vibration sensation
 C. Vibration frequency: 12500 times / minute
 D. Makes the visibility of the cells improve, accelerates blood circulation, promotes the growth of the collagen nucleus of the fiber cells. It has an obvious effect to soften wrinkles and wrinkles, firm skin, fades melanin and scar, etc.
THE + OF THIS MASSAGE DEVICE:
This massage device has several virtues: it fights against aging and elasticity of the skin (it is an effective anti wrinkle and anti age) for a firmness and a skin more lift and tone. It is also a good anti imperfections care, because it stimulates the blood circulation, essential against wrinkles, redness and acne, but also regenerates the dead cells of the skin for a good look.
It does not require the prior application of serum, cleanser or cosmetic creams, just apply your daily moisturizer. Be careful: do not apply it for too long on the eye area. This device can be more effective than some hyaluronic acid-based products found in anti-aging and facial care products.
It can be applied to all skin types, including sensitive skin (if you have poorly moisturized skin or even dry parts of the complexion, apply more moisturizer to avoid further drying). It also regulates excess sebum.
 1. After long term idle, the product needs about 15 mins to reactivate to be the charging state(indicator light will gradual brightening), and the indicator light flash in blue.
 2. When battery is in shortage, flash in red light, when it is under battery charging, flash in blue light, when blue light is up on indicates charge in saturation
 3. The product has the function of heating, approximate temperature is in 42℃. After you apply the essence oil massage cream on skin, the product will automatically adjust the temperature to most comfortable.
FAQ:

 A. When I receive the product, I can't turn on it 
 1. First please charge it, keep enough power
 2. Press the switch, the light is will turn on.
 B. When I use it, I can't feel anything.[or feel the current is very weak]
 1. First clean your face.
 2. Put some GEL or Toner on your face
 3. Turn on it, and keep it in one place for 3-5 seconds. Move slowly on your face
 C. Why it works for 5 minutes, and then it turns off?
 YES, this is normal, it works for 5 minutes and will turn off, we not recommended to use it for too long time.
 D. It has "bye~bye" voice when working, is it defective?
 NO, it is Normal, It's a sound of correct indication, a record of how long you stay, and it's a small cycle of working states.
 E. It doesn't have vibration.
 YES, It mainly uses micro-current to achieve massage and beauty effects. 
SPECIFICATION:
Battery: 2.4V/800MAH polymer battery
Click on "

ADD TO CART

" NOW 

While it's still in stock

! Offer available while supplies last.
Package includes:
Customer support:
If you have any inquiries either before or after purchase, reach out to us at support@zestbalance.com. We are happy to assist you at any time!
All orders have a 120-day money-back guarantee.
View full details